Wakefield Park is located in Goulburn NSW, midway between Sydney and Canberra. At this time of year its a bit cool (read as bloody cold). The morning temperatures were between -6 and 0 for the 5 days we were in Goulburn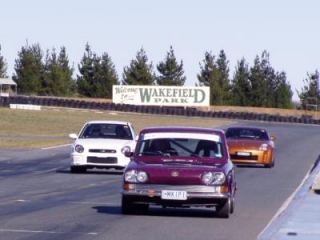 Friday was an open practice day. We had a few runs to make sure our Mk1 had survived the trip and I needed an observation run to obtain my Race Licence required for Sundays All British Race day.
The Subaru was immensely fast passing both the Nissan 350Z and the Mk1 down the front straight. The Nissan 350Z didn't quite have enough to pass the Mk1.
---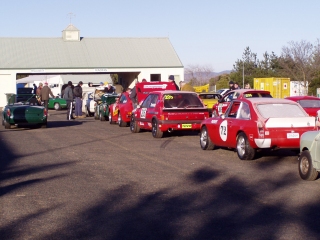 There was a good turn-out for the Sprint Race on Saturday.
The line up for scrutineering.
---

A line up of Dolomite Sprints, plus one Sedan. The performance mods to the Dolomite Sprints included Electronic Fuel Injection and turbo chargers.
Serious horsepower!
---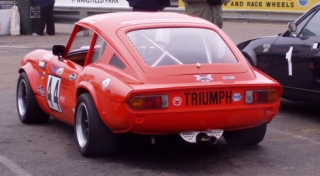 Roger Lange's GT6
This is one tuff little car.
---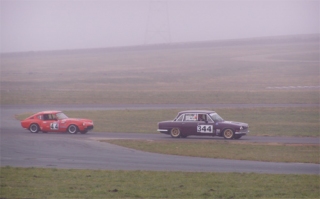 Sunday morning was very foggy. Racing was delayed until the the fog lifted enough so that the flag marshals could see from one flag point to the next.
When the fog finally lifted enough you could see the back straight from the pits.
Roger Lange (GT6) about to pounce on Adrian Diehm (Mk1) in the fog.